Harvard Square in the 1930's when Richard was a young boy.
I didn't have a chance to photograph Richard, but I can't keep this story to myself. It was almost surreal. I felt like I was talking to a time traveler when I was talking to him. Richard was a kind, old gentleman I met at Howard riding to Evanston. He was dressed like someone from another time period (or a retired Sherlock Holmes). He was wearing a three piece suit, a long trench coat, and a hat that matched the texture and pattern of his suit. I am willing to bet money, that Richard dressed like the guys in Mad Men when he was younger. I met him at the Howard station when he asked me if he was on the right platform to go to Evanston (it was more confusing to get on the right platform because of construction)...
It turns out that Richard was on his way to Evanston to listen to a Music of the Baroque concert at the First Presbyterian Church. He's an 83 year old man who's retired. We sat all alone on the train car, so we talked. After asking me what I studied, I asked him what he did. He said that he studied History and German in college and even did some graduate work at Harvard. Richard told me that he grew up in Western Massachusetts, and went to school in Boston. He said that he grew up extremely poor, and if his mother didn't save money and get a job, he would have never been able to afford to go to college. After college, Richard worked as a book editor in Boston. He said that he never really learned how to use a computer well. He was just too old. He said that he's not too old to learn, but people think that he's too old to bother teaching! The publisher where he was a book editor in Boston closed down, and then he came to Chicago. He would do the same thing as he did in Boston. People would send him their finished manuscripts and he would edit them if they needed it. According to Richard, they always needed a bunch of editing. Then once he was done editing, he would send the manuscript to a compositor, who would prepare the galley proofs. These would no longer just be big pages of manuscripts, but they would look more like the book, and have big margins to send around for another round of revision and approval from the author, the editor, etc.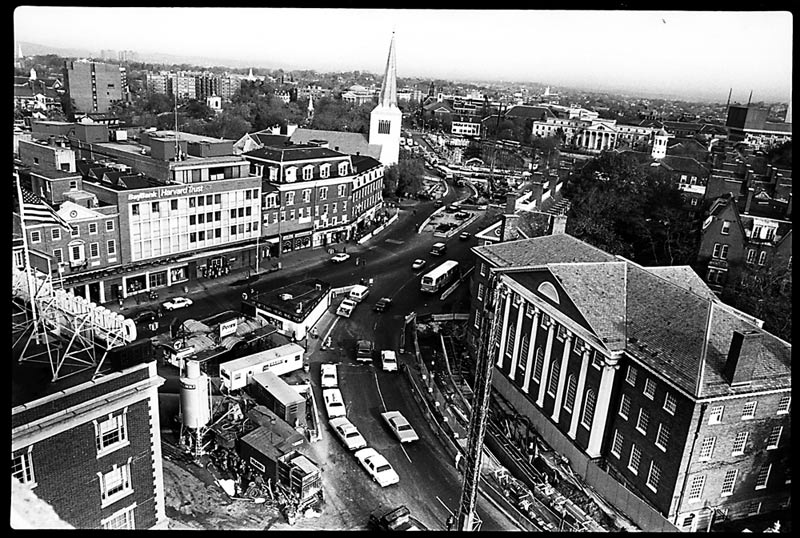 Harvard Square in the 1950's when Richard attended.
After working for many years as a book editor, and with computers becoming so commonplace Richard's company closed. Richard said that computers simply made it so that there was so much less editing to be done and so many fewer editors were needed. He became a case worker for the State of Illinois, where he would review cases of people who would apply for welfare. I asked Richard if he liked his job, he said, "Oh God no! It was just too depressing! I mean I liked helping people, but people who would come to me would be so poor and unable to help themselves. It was just too taxing on me and made me so sad."
Richard later asked me what I believed in, because I told him that I was a Biomedical Engineer. He asked me, "Do you believe in God or in science?" I told him that I believed in both and that I didn't necessarily feel that the two were at odds. As a Muslim, there's nothing that I believe in that's contrary to science. As a scientist, I know that I'm a limited and fallible human. Any scientific model I pose will thus be just as limited and fallible, but that doesn't mean I can't learn anything from it. We spoke for a long time about how important it is for people to think about what they believe in and understand it - that was something that really resonated with Richard's beliefs as a Unitarian and mine as a Muslim. This conscious understanding of a personal theology along with the golden rule of doing onto others and to love your neighbor as yourself. This was what Richard said gave him hope, because he himself "had been no saint."
Harvard Square today!
Richard just seemed to be such a wise man. As we parted ways, I asked him if he had any advice to me while I'm still young and not so wise. He told me to eat well and exercise, that would make it so much easier to keep working and learning and studying while I was young. It was kind of funny. I don't think he thought of himself as old, but as someone who's still on the quest of his life. He wishes he could still work and travel, but his back pain and health makes it difficult. Richard, it was such a pleasure to talk to you. I hope that I have a chance to grow so old and wise like you do.